Adware applications like Magic Find should not be underestimated in terms of their unfavorable effect, so it's about time to get rid of it if it's aboard.
Undesired is a forbearing word to characterize Magic Find software. Its impact upon a computer leaves quite a few question marks behind, even after the evident adverse effects have been taken into account. The users are bound to endure frustrating objects called Ads by Magic Find, which flood every web page regardless of the browser it's visited on. That's merely the apparent, conspicuous part. Another ponderable fragment of the flip side has to do with potential privacy risks that may occur while this app is running on a machine. Collecting one's PID (personally identifiable data) is a manageable task for the adware as it has access to and looks at the sites being surfed to as well as the online searches being made. Browser slowdown is probably the least significant, yet irritating side effect, too.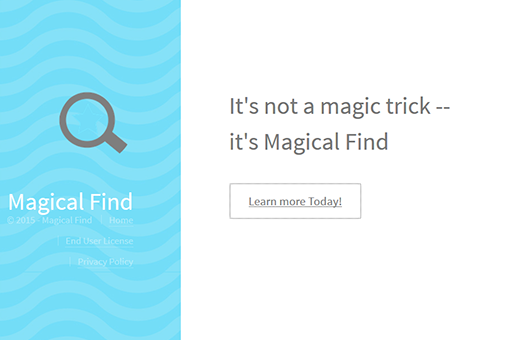 Not only does Magic Find serve ads without the user's consent, but it also installs on a machine without being clearly allowed to. Interestingly, it doesn't leverage super-smart techniques to bypass PC defenses, nor does it use stealthy exploit kits to get in. Instead, the program manipulates a person into authorizing its setup. A cunning mix of social engineering and the present-day freeware spreading trends makes the bad guys' day, because users get the infection while thinking they are only installing something else. Open source products like low-reputation media players, game crack solutions, various audio and video codecs, as well as customized variants of Flash Player or Java may quite possibly have Magic Find under the hood. The adware usually poses as a featured offer that's built into the express setup option, which people hardly ever opt out of.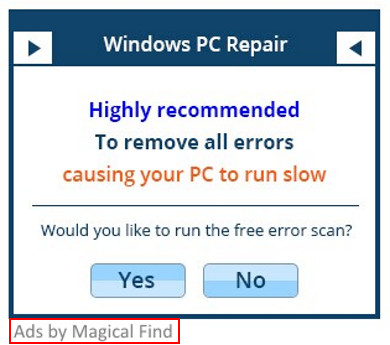 Magic Find ads can take a variety of shapes. Some of them are popups with annoying recommendations to scan the system under false pretenses; some are transitional ads triggered in the background in between new tabs; and many are advertisements injected into keywords on websites. The infection can display this excessive content due to a virtual layer it adds to one's browsing environment. Ads by Magic Find tend to override the original elements of web page structure, which is a tremendous nuisance and obstacle to the victim's regular browsing. Although the conventional program uninstall method is of no avail with adware, the malicious advertising activity can be halted altogether by means of an easy-to-follow workaround.
Automatic removal of the Magic Find virus
When it comes to handling infections like this one, using a reputable cleaning tool is the place to start. Sticking to this workflow ensures that every component of the adware gets found and eradicated from the affected computer.
1. Download and install the cleaning tool and click the Start Computer Scan button Download Magic Find removal tool
2. The wait is worth it. Once the scan completes, you will see a report listing all malicious or potentially unwanted objects detected on your PC. Go ahead and click the Fix Threats option in order to get Magic Find ads automatically uninstalled from your machine along with all of its modules. This being done, you should be good to go.
Uninstall Magic Find through Control Panel
From your Windows menu, go to Control Panel. Select Add or Remove Programs (for Windows XP / Windows 8) or Uninstall a program (Windows Vista / Windows 7)
Remove Magic Find ads virus from web browsers manually
The workflow covered below is intended to undo all changes that the Magic Find virus made to Chrome, Firefox and Internet Explorer. The fix includes several steps: removing the malicious extension; and (if the previous action turned out inefficient) resetting the browser. Be advised there's some collateral inconvenience you will encounter in the latter case, namely the loss of all installed add-ons and personalized information (saved passwords, cached data, bookmarks and other content).
Remove Magic Find in Chrome
1. Uninstall the Magic Find extension
2. Restore homepage defaults
Go to On startup sub-section and activate the Open a specific page or set of pages option. Also, click Set pages
3. Restore correct search preferences
4. Restart Google Chrome
Remove Magic Find in Firefox
1. Eliminate the respective add-on
Hit the Extensions tab and locate Magic Find on the list. Click Remove to get rid of it
2. Fix the homepage settings
3. Set the preferred search provider
Select the search engine to use by default and hit OK to save the changes
4. Restart Mozilla Firefox
removal from Internet Explorer
Select Toolbars and Extensions in the navigation pane, locate the items related to Magic Find, including the Magic Find API, right-click each one select Remove in the context menu
Restart IE and check for symptoms of the infection. If the Magic Find ads are not appearing anymore, then no further action is required. If the adware is still there, proceed to the steps below
Make sure the Delete personal settings option on the Reset Internet Explorer Settings dialog is ticked and click Reset
Restart Internet Explorer for the changes to take effect
Did the problem go away? Check and see
Computer threats like the Magic Find virus can be stealthier than you can imagine, skillfully obfuscating their components inside a compromised computer to evade removal. Therefore, by running an additional security scan you will dot the i's and cross the t's in terms of the cleanup.