Since some users are encountering Startzentrale.de replace their browser homepage and search defaults, it is sustained by adware which should be removed.
According to automatic tools analyzing domains against known virus databases, Startzentrale.de is a clean site in that it does not host malware, nor does it implement any type of phishing activity. The page appears to be a unified resource for keyword and product look-up, with search boxes for Amazon, eBay, YouTube, Bing and other popular services incorporated in one place. In spite of this overall normality, a lot users, Germany-based mostly, have been discussing it on security boards in an adverse context, reporting browser issues accompanied by frequent visits to the website in question. It turns out there is a PUP, or Potentially Unwanted Program, that sets Startzentrale.de as one's start page, default search and new tab in all web browsers that are used on the computer. The event of these modifications taking effect is not preceded by permission granting on the user's end, which is an indicator of a blatant adware routine.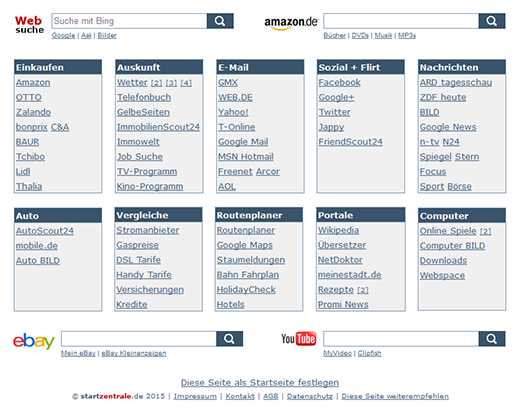 The way this hijack takes place is a clandestine process. The settings-switching infection usually crawls into a PC alongside other products, most of which are absolutely harmless. The undesired payload can be presented as a 'special' or 'featured' offer complementing the installations of some open source software, including movie players, streaming video grabbers, hardware drivers, games, and even utilities like Java and Adobe Reader. The catch is in the setup client rather than the product itself, where the drive-by poses as part of the recommended installation. Selecting the Custom option in these circumstances can work wonders, because it allows opting out of random digital garbage.
The system pollution results in the appearance of a plugin or other type of web enhancement, which overrides basic preferences configured by the administrator on the machine. No approval is requested by the adware for making these changes, therefore the victim only finds out that the attack has happened when Startzentrale.de starts popping up all at once. Although the embedded search resources aggregation feature may theoretically stand some people in good stead, it is all smeared by the tactics for promoting it. Naturally, the affected users begin taking troubleshooting effort as early as the first couple of browser redirects, but the fix proves to be more complicated than uninstalling the unwelcome add-on or plugin. This entry provides the totality of Startzentrale.de removal techniques that allow addressing the problem in a few minutes.
Automatic removal of the Startzentrale.de virus
When it comes to handling infections like this one, using a reputable cleaning tool is the place to start. Sticking to this workflow ensures that every component of the adware gets found and eradicated from the affected computer.
1. Download and install the cleaning tool and click the Start Computer Scan button Download Startzentrale.de removal tool
2. The wait is worth it. Once the scan completes, you will see a report listing all malicious or potentially unwanted objects detected on your PC. Go ahead and click the Fix Threats option in order to get Startzentrale.de adware automatically uninstalled from your machine along with all of its modules. This being done, you should be good to go.
Uninstall Startzentrale.de through Control Panel
From your Windows menu, go to Control Panel. Select Add or Remove Programs (for Windows XP / Windows 8) or Uninstall a program (Windows Vista / Windows 7)
Remove Startzentrale.de homepage from web browsers manually
The workflow covered below is intended to undo all changes that the Startzentrale.de virus made to Chrome, Firefox and Internet Explorer. Be advised there's some collateral inconvenience you will encounter, namely the loss of all installed add-ons and personalized information (saved passwords, cached data, bookmarks and other content).
Remove Startzentrale.de in Chrome
1. Uninstall the Startzentrale.de extension
2. Restore homepage defaults
Go to On startup sub-section and activate the Open a specific page or set of pages option. Also, click Set pages
3. Restore correct search preferences
4. Restart Google Chrome
Remove Startzentrale.de in Firefox
1. Eliminate the respective add-on
Hit the Extensions tab and locate Startzentrale.de on the list. Click Remove to get rid of it
2. Fix the homepage settings
3. Set the preferred search provider
Select the search engine to use by default and hit OK to save the changes
4. Restart Mozilla Firefox
removal from Internet Explorer
Select Toolbars and Extensions in the navigation pane, locate the items related to Startzentrale.de, including the Startzentrale.de API, right-click each one select Remove in the context menu
Restart IE and check for symptoms of the infection. If the Startzentrale.de ads are not appearing anymore, then no further action is required. If the adware is still there, proceed to the steps below
Make sure the Delete personal settings option on the Reset Internet Explorer Settings dialog is ticked and click Reset
Restart Internet Explorer for the changes to take effect
Did the problem go away? Check and see
Computer threats like the Startzentrale.de virus can be stealthier than you can imagine, skillfully obfuscating their components inside a compromised computer to evade removal. Therefore, by running an additional security scan you will dot the i's and cross the t's in terms of the cleanup.