Get rid of intrusive media and annoying ads by Zombie News through removing this add-on from targeted web browsers and learn how else it can affect you.
The topic of zombie invasion has been trending for a really long time, getting continuously heated up by movies, TV shows, video games and thousands of web pages dedicated to this segment of science fiction. Computer application developers certainly don't lag behind in propagating this facet of popular culture. Zombie News is one of such programs. The idea behind it is to scan the Internet for hot news on the theme, purportedly calculate the risk of zombie invasion and notify the user. Sounds like fun, moreover this app is free. More or less savvy PC users, however, prick their ears up when they hear "free software", because this often times implies that the product is ad-supported. The authors of Zombie News do admit they have partnered with ad providers, but they claim to avoid the sponsored content that is obnoxious. What users are experiencing, though, is the opposite of that.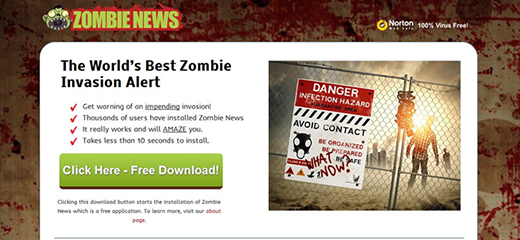 The somewhat dubious nature of this application becomes obvious from the very start as it installs on PCs via involvement in a bundling conspiracy. Its payload is obscured by not-so-transparent installation wizards of affiliated tools. These are mainly media downloaders, some of which also push such ill-famed software as Couponarific, SmartSaver Plus and SearchSnacks. Simply put, it's not until Zombie News has already been installed that the user realizes it's on board their machine. The extension, which is compatible with Internet Explorer 8 and later, Chrome and Firefox, will display sponsored in-text links, obtrusive software download recommendations, different coupons and trigger interstitial ads while you are surfing the web.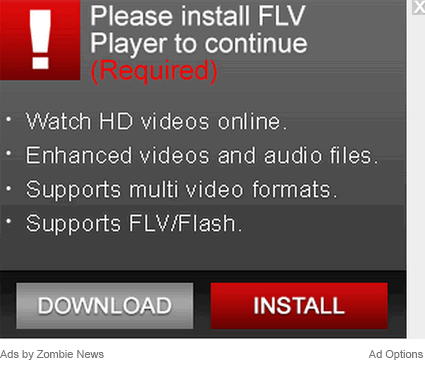 These adverts aren't difficult to recognize as they say "Ads by Zombie News" or "Brought to You by Zombie News". They appear in parts of websites that the webmasters never dedicated to advertising, consequently the user friendliness of web pages gets impacted considerably. Another thing about this adware that can potentially cause more issues is the data monitoring part, which means that it tracks the victim's online activity, such as search history, and who knows how and for what purposes this information can be further exploited. So peruse the steps listed in the next part of this guide and follow them to permanently remove Zombie News add-on.
Automatic removal of the Zombie News virus
When it comes to handling infections like this one, using a reputable cleaning tool is the place to start. Sticking to this workflow ensures that every component of the adware gets found and eradicated from the affected computer.
1. Download and install the cleaning tool and click the Start Computer Scan button Download Zombie News removal tool
2. The wait is worth it. Once the scan completes, you will see a report listing all malicious or potentially unwanted objects detected on your PC. Go ahead and click the Fix Threats option in order to get Zombie News ads automatically uninstalled from your machine along with all of its modules. This being done, you should be good to go.
Uninstall Zombie News through Control Panel
From your Windows menu, go to Control Panel. Select Add or Remove Programs (for Windows XP / Windows 8) or Uninstall a program (Windows Vista / Windows 7)
Remove Zombie News Ads virus from web browsers manually
The workflow covered below is intended to undo all changes that the Zombie News virus made to Chrome, Firefox and Internet Explorer. The fix includes several steps: removing the malicious extension; and (if the previous action turned out inefficient) resetting the browser. Be advised there's some collateral inconvenience you will encounter in the latter case, namely the loss of all installed add-ons and personalized information (saved passwords, cached data, bookmarks and other content).
Remove Zombie News in Chrome
1. Uninstall the Zombie News extension
2. Restore homepage defaults
Go to On startup sub-section and activate the Open a specific page or set of pages option. Also, click Set pages
3. Restore correct search preferences
4. Restart Google Chrome
Remove Zombie News in Firefox
1. Eliminate the respective add-on
Hit the Extensions tab and locate Zombie News on the list. Click Remove to get rid of it
2. Fix the homepage settings
3. Set the preferred search provider
Select the search engine to use by default and hit OK to save the changes
4. Restart Mozilla Firefox
removal from Internet Explorer
Select Toolbars and Extensions in the navigation pane, locate the items related to Zombie News, including the Zombie News API, right-click each one select Remove in the context menu
Restart IE and check for symptoms of the infection. If the Zombie News ads are not appearing anymore, then no further action is required. If the adware is still there, proceed to the steps below
Make sure the Delete personal settings option on the Reset Internet Explorer Settings dialog is ticked and click Reset
Restart Internet Explorer for the changes to take effect
Did the problem go away? Check and see
Computer threats like the Zombie News virus can be stealthier than you can imagine, skillfully obfuscating their components inside a compromised computer to evade removal. Therefore, by running an additional security scan you will dot the i's and cross the t's in terms of the cleanup.