FlashBeat, a browser add-on claiming to enhance web experience but in fact deteriorating it, is subject to study here, with symptoms and removal advice covered.
What you end up getting from installations of freeware or shareware is barely ever known upfront. Apps that don't cost a penny are potentially malware promoters these days, which is how their authors get rewarded for their programming efforts. Just a brief example: a program called MediaDownloader, which is safe if analyzed separately, carries a bunch of recommended applications in its setup. One of these wrapped up tools is FhashBeat. The thing is, in order to install the free MediaDownloader utility you need to also opt into allowing third-party stuff to enter your machine. In the meanwhile, you don't really know how secure the bundled components are. In case with FlashBeat, though, things are clearly on the malicious side.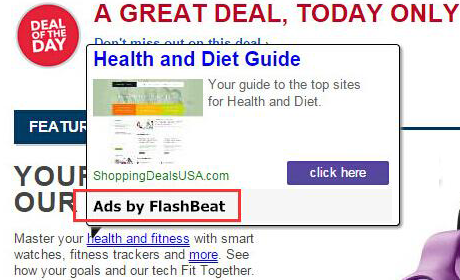 The deceptive essence of FlashBeat is only revealed after it infiltrates the computer. Before that, the advertised features might look like a good deal as the app promises improvements of web browsing, including a better rendering of site content. These promises are not kept once the add-on finds itself inside your system. It shows up on the extensions list of the web browser you are using, and from then on the way sites are displayed undergoes notable changes. Certain words on web pages turn into links so that, when you point your mouse on them, popup prompts with commercial recommendations get triggered. The textual part of websites therefore becomes a mess. Also, this pest comes up with numerous boxes containing data about discounts, best buy product suggestions and the like. There may as well appear misleading software download prompts, telling you that you absolutely have to install something (e.g. media player or file downloader) in order to proceed with your web browsing.
Obviously, this sort of practice is a nuisance. Beyond that, FlashBeat was found to deploy some user activity tracking, in particular the harvesting of your search terms, site visiting history, and certain patterns which can explicate what your interests are. Well, this is presumably done for the sake of ads accuracy, but who knows where this data goes in the long run. So it's strongly recommended to remove FlashBeat out of the harm's way and bring your browser back to its normal state.
Automatic removal of the FlashBeat virus
When it comes to handling infections like this one, using a reputable cleaning tool is the place to start. Sticking to this workflow ensures that every component of the adware gets found and eradicated from the affected computer.
1. Download and install the cleaning tool and click the Start Computer Scan button Download Ads by FlashBeat removal tool
2. The wait is worth it. Once the scan completes, you will see a report listing all malicious or potentially unwanted objects detected on your PC. Go ahead and click the Fix Threats option in order to get Ads by FlashBeat ads automatically uninstalled from your machine along with all of its modules. This being done, you should be good to go.
Uninstall Ads by FlashBeat through Control Panel
From your Windows menu, go to Control Panel. Select Add or Remove Programs (for Windows XP / Windows 8) or Uninstall a program (Windows Vista / Windows 7)
Remove Ads by FlashBeat from web browsers manually
The workflow covered below is intended to undo all changes that the Ads by FlashBeat virus made to Chrome, Firefox and Internet Explorer. Be advised there's some collateral inconvenience you will encounter, namely the loss of all installed add-ons and personalized information (saved passwords, cached data, bookmarks and other content).
Remove Ads by FlashBeat in Chrome
1. Uninstall the Ads by FlashBeat extension
2. Restore homepage defaults
Go to On startup sub-section and activate the Open a specific page or set of pages option. Also, click Set pages
3. Restore correct search preferences
4. Restart Google Chrome
Remove Ads by FlashBeat in Firefox
1. Eliminate the respective add-on
Hit the Extensions tab and locate Ads by FlashBeat on the list. Click Remove to get rid of it
2. Fix the homepage settings
3. Set the preferred search provider
Select the search engine to use by default and hit OK to save the changes
4. Restart Mozilla Firefox
removal from Internet Explorer
Select Toolbars and Extensions in the navigation pane, locate the items related to Ads by FlashBeat, including the Ads by FlashBeat API, right-click each one select Remove in the context menu
Restart IE and check for symptoms of the infection. If the Ads by FlashBeat ads are not appearing anymore, then no further action is required. If the adware is still there, proceed to the steps below
Make sure the Delete personal settings option on the Reset Internet Explorer Settings dialog is ticked and click Reset
Restart Internet Explorer for the changes to take effect
Did the problem go away? Check and see
Computer threats like the Ads by FlashBeat virus can be stealthier than you can imagine, skillfully obfuscating their components inside a compromised computer to evade removal. Therefore, by running an additional security scan you will dot the i's and cross the t's in terms of the cleanup.