Implement this fix for the collateral effects of DNSUnlocker software, in particular the advertisements that it serves on websites without being permitted to.
A variety of proxy services available on the e-market allow exploring and enjoying the multimedia services that use blacklisting techniques for certain categories of users. Sites like Crackle, Netflix and HBO, for instance, employ traffic filtering so that people cannot visit them from quite a few places across the globe. This take on treating customers is presumably a countermeasure for the violation of copyright and spreading illegally obtained media content without consent of the proprietor. Virtual private networking tools can dodge this blocking by imitating the client's server location that won't raise any red flags. While this approach might have a flavor of cheating in certain circumstances, it is undoubtedly also a useful instrument to maintain anonymity on the Internet. DNSUnlocker is a brand that takes advantage of this positive perception, but the things it does to one's computer reduce the good part down to zero.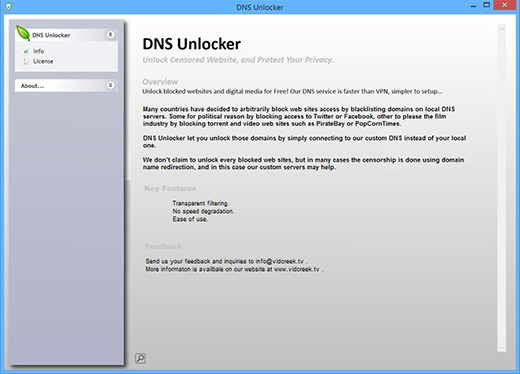 DNSUnlocker has an official web page, where the claimed benefits are presented in a good light only. According to the vendor, this tool is better and faster than the regular VPNs because its effect only covers the geolocation-related attributes of one's web traffic. So, the users supposedly get a lightweight app that enables them to visit geo-restricted domains without having to sacrifice their connection speed and pay anything. After this product is installed, though, it's going to make web browsers freak out by injecting huge amounts of sponsored data into sites. User experience, therefore, will definitely be affected as well.

One of the things DNSUnlocker does to the computer system is it makes changes to the local area connection parameters, which is part of the server imitation routine that's necessary to make restricted web pages accessible. However, these changes and other software-level interferences let the program perform unwanted actions on the browsers. All websites will be henceforth filled with in-text ads, price comparison objects, coupons and popups with the inscription "Ads by DNSUnlocker". Interstitial advertisements will be encountered as well.
Another must-mention fact about this malicious program is that users never install it in a regular way. Tens of freeware offers downloadable from software repositories have DNS Unlocker included in their installation by default so that it gets into PCs alongside these tools. Overall, when looked at from different angles, this application is a fraud that should be avoided. If it has already attacked a computer through the covert spreading hoax, removal should be immediately carried out in accordance with special instructions.
Automatic removal of the DNSUnlocker virus
When it comes to handling infections like this one, using a reputable cleaning tool is the place to start. Sticking to this workflow ensures that every component of the adware gets found and eradicated from the affected computer.
1. Download and install the cleaning tool and click the Start Computer Scan button Download DNSUnlocker removal tool
2. The wait is worth it. Once the scan completes, you will see a report listing all malicious or potentially unwanted objects detected on your PC. Go ahead and click the Fix Threats option in order to get DNSUnlocker ads automatically uninstalled from your machine along with all of its modules. This being done, you should be good to go.
Uninstall DNSUnlocker through Control Panel
From your Windows menu, go to Control Panel. Select Add or Remove Programs (for Windows XP / Windows 8) or Uninstall a program (Windows Vista / Windows 7)
Remove DNSUnlocker ads virus from web browsers manually
The workflow covered below is intended to undo all changes that the DNSUnlocker virus made to Chrome, Firefox and Internet Explorer. The fix includes several steps: removing the malicious extension; and (if the previous action turned out inefficient) resetting the browser. Be advised there's some collateral inconvenience you will encounter in the latter case, namely the loss of all installed add-ons and personalized information (saved passwords, cached data, bookmarks and other content).
Remove DNSUnlocker in Chrome
1. Uninstall the DNSUnlocker extension
2. Restore homepage defaults
Go to On startup sub-section and activate the Open a specific page or set of pages option. Also, click Set pages
3. Restore correct search preferences
4. Restart Google Chrome
Remove DNSUnlocker in Firefox
1. Eliminate the respective add-on
Hit the Extensions tab and locate DNSUnlocker on the list. Click Remove to get rid of it
2. Fix the homepage settings
3. Set the preferred search provider
Select the search engine to use by default and hit OK to save the changes
4. Restart Mozilla Firefox
removal from Internet Explorer
Select Toolbars and Extensions in the navigation pane, locate the items related to DNSUnlocker, including the DNSUnlocker API, right-click each one select Remove in the context menu
Restart IE and check for symptoms of the infection. If the DNSUnlocker ads are not appearing anymore, then no further action is required. If the adware is still there, proceed to the steps below
Make sure the Delete personal settings option on the Reset Internet Explorer Settings dialog is ticked and click Reset
Restart Internet Explorer for the changes to take effect
Did the problem go away? Check and see
Computer threats like the DNSUnlocker virus can be stealthier than you can imagine, skillfully obfuscating their components inside a compromised computer to evade removal. Therefore, by running an additional security scan you will dot the i's and cross the t's in terms of the cleanup.