It's wise to steer clear of Piesearch.com website because it's related to a malicious browser hijacker, so get a couple of tips to stop the redirects for good.
Though the Piesearch infection isn't new, there has been an abrupt spike in its circulation over the past few weeks. Its authors have apparently discovered another loophole to attack lots of computers in a relatively short time span. To this end, adware developers usually resort to techniques like bundling, and that's the case here as well. By negotiating with freeware download portal administrators, the offending marketing actors get their payloads incorporated into compound download clients. This way, unsuspecting users who think they are installing a streaming video grabber, media player, computer game, or suchlike innocuous applets end up catching a hijacker that changes their browser defaults without appropriate permission.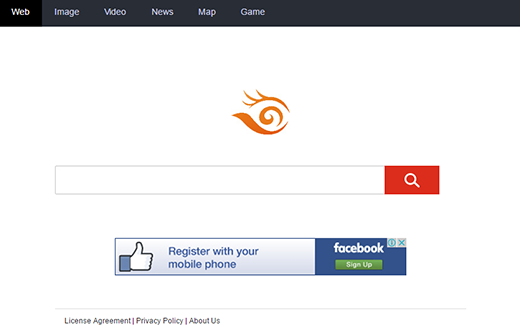 Once the unwelcome program is dropped into an operating system, it attaches a new extension to each one of the widespread browsers running on it. This add-on is different than regular ones as it doesn't generate any clear requests prior to making changes to Chrome, Firefox, IE and possibly other browsers. Modifications, however, are imminent. The infection replaces the homepage, search provider and new tab page with Piesearch.com or S.piesearch.com, which is a replica of the same site. Furthermore, it alters the properties of some application shortcuts so that the unwanted site pops up every time the victim launches random programs. The adware onslaught may be accompanied by rerouting to Easydialsearch.com, another worthless data lookup provider set up by the same cyber gang.
The web page in question is not dangerous to visit and browse around. It displays exasperating advertisements and returns search results powered by a completely different engine. The whole idea is to monetize the web traffic acquired in an unethical fashion. Since this activity is deployed by a persistent add-on, manual changes of browser preferences is no go. It takes a more thorough procedure to completely eradicate the Piesearch adware and restore original web surfing settings.
Automatic removal of the Piesearch virus
When it comes to handling infections like this one, using a reputable cleaning tool is the place to start. Sticking to this workflow ensures that every component of the adware gets found and eradicated from the affected computer.
1. Download and install the cleaning tool and click the Start Computer Scan button Download Piesearch removal tool
2. The wait is worth it. Once the scan completes, you will see a report listing all malicious or potentially unwanted objects detected on your PC. Go ahead and click the Fix Threats option in order to get Piesearch hijacker automatically uninstalled from your machine along with all of its modules. This being done, you should be good to go.
Uninstall Piesearch through Control Panel
From your Windows menu, go to Control Panel. Select Add or Remove Programs (for Windows XP / Windows 8) or Uninstall a program (Windows Vista / Windows 7)
Remove Piesearch homepage from web browsers manually
The workflow covered below is intended to undo all changes that the Piesearch virus made to Chrome, Firefox and Internet Explorer. Be advised there's some collateral inconvenience you will encounter, namely the loss of all installed add-ons and personalized information (saved passwords, cached data, bookmarks and other content).
Remove Piesearch in Chrome
1. Uninstall the Piesearch extension
2. Restore homepage defaults
Go to On startup sub-section and activate the Open a specific page or set of pages option. Also, click Set pages
3. Restore correct search preferences
4. Restart Google Chrome
Remove Piesearch in Firefox
1. Eliminate the respective add-on
Hit the Extensions tab and locate Piesearch on the list. Click Remove to get rid of it
2. Fix the homepage settings
3. Set the preferred search provider
Select the search engine to use by default and hit OK to save the changes
4. Restart Mozilla Firefox
removal from Internet Explorer
Select Toolbars and Extensions in the navigation pane, locate the items related to Piesearch, including the Piesearch API, right-click each one select Remove in the context menu
Restart IE and check for symptoms of the infection. If the Piesearch ads are not appearing anymore, then no further action is required. If the adware is still there, proceed to the steps below
Make sure the Delete personal settings option on the Reset Internet Explorer Settings dialog is ticked and click Reset
Restart Internet Explorer for the changes to take effect
Did the problem go away? Check and see
Computer threats like the Piesearch virus can be stealthier than you can imagine, skillfully obfuscating their components inside a compromised computer to evade removal. Therefore, by running an additional security scan you will dot the i's and cross the t's in terms of the cleanup.