With some controversy in place pertaining to the classification of MyPC Backup software, it exhibits a number of characteristic features which justify flagging it as an adware program. Although this tool does actually provide online backup services, which is the good part, it leverages a questionable distribution model and intrusive methods to make users upgrade to paid version.
The popularity of backup solutions is out of the question due to computer users' aspiration to secure their data from possible hardware instability or harsh scenarios such as a ransomware attack. MyPC Backup software by JDi Backup Ltd claims to provide those in-demand features, but it has been stirring up the IT community because of some nuances in the tactics applied. This article contains information based on security investigation conducted by our team, and it is intended to explain the potential cons of having this tool on board a computer. Going to the app's official site, registering a trial account and installing the program isn't necessarily the way it gets into a PC, which is the first security concern about this whole campaign. What often happens is some open source utility has MyPC Backup installer wrapped up in its setup wizard, therefore the process of allowing the application inside appears to be an uninformed decision. In other words, users are unaware of some third party entity being installed alongside the affiliated freeware.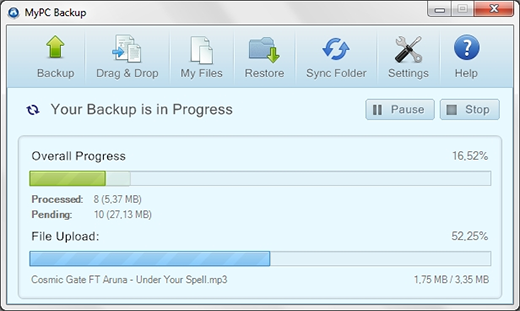 The awareness part starts when the program gets executed out of the blue and offers the default option of backing up My Documents folder or the custom variant of picking the desired folder. The process proper won't last long as it stops at the point where the trial limit gets reached. It used to be 50 files, now it's 15 MB. From that moment on, the user will be bombarded by nagging alerts, including system tray notifications, reminding of the need to register the fully functional version. Since the app configures Windows to autorun its code at every boot (it appears on the 'msconfig' list), the annoyance will persevere until you buy the product or get rid of it.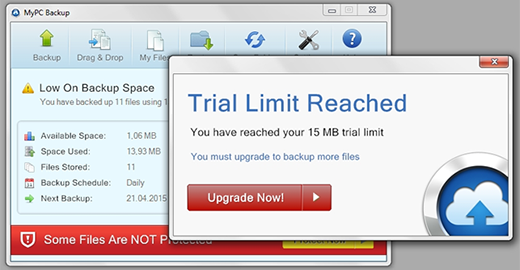 There is one more downside of having MyPC Backup on the machine: since the user is required to provide their email address during registration, numerous automatically generated messages from the account manager will be received, which is a nuisance too. These emails say your account has been flagged on their system as "having outstanding files which need to be backed up", thus trying to further persuade you into buying their product to get more space. That's reminiscent of unethical marketing. When trying to uninstall the product via Control Panel, some users have reported issues where an alert would say some files are in use and cannot be removed. All in all, in order to thoroughly eradicate all components of MyPC Backup from a system, it's recommended to use a more sophisticated fix.
Automatic removal of MyPC Backup
When it comes to handling infections like this one, using a reputable cleaning tool is the place to start. Sticking to this workflow ensures that every component of the adware gets found and eradicated from the affected computer.
1. Download and install the cleaning tool and click the Start Computer Scan button Download MyPC Backup removal tool
2. The wait is worth it. Once the scan completes, you will see a report listing all malicious or potentially unwanted objects detected on your PC. Go ahead and click the Fix Threats option in order to get MyPC Backup email automatically uninstalled from your machine along with all of its modules. This being done, you should be good to go.