Read the must-know details about JollyWallet app, find out why it is categorized as adware and follow the steps to remove this add-on and prevent annoying ads.
One of the issues that often accompany the operation of e-commerce applications is the elevated degree of intrusiveness that they might exhibit. There is therefore a thin line between these sorts of software products and potentially unwanted entities called adware. It's somewhat arguable which category the JollyWallet applet represents, but as per user feedback and the analysis of certain behavioral patterns, it acts in a fashion which is reminiscent of the malicious programs mentioned above. To its credit, this tool is backed by fairly high-quality marketing and seems to accommodate useful features, judging from the information declared in the open. It is stated to display coupon deals when you got to websites of partnering shopping stores. Also, JollyWallet is claimed to provide a cash back option, where the vendor shares their contractual discount with the users. Unfortunately, things end up being not so unshadowed.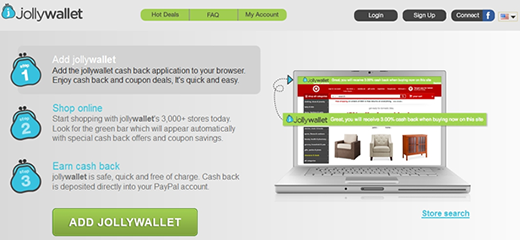 First off, it's not only the affiliated websites that the ads and banners pop up on. As long as JollyWallet is running, you will be seeing annoying sponsored information wherever you go online, be it social networking sites or just your regular web pages for news, sports, etc. Secondly, the volume of this advertising is enormous, so be ready for some popups closing and minimizing work that won't seem to end. Since that's a lot of graphics to permanently pull up and display, the browser is going to get slower and will occasionally report various plugin crash alerts.

JollyWallet is cross-browser, so it's got an add-on for Chrome, Firefox and IE in store. The way it gets into a PC is a whole separate story, but the main fact in this regard is that it doesn't necessarily have to be downloaded from the official web page. There are tons of free applications which, when installed, also promote the program under consideration, and the mentioning of this cooperation isn't always clear or unveiled. This is why the sudden appearance of JollyWallet popup ads on browser pages is a surprise to users most of the time.
Aside from the obvious invasiveness of this app, it might pose more serious risks. The tool processes some of your e-shopping transactions, or at least has shared access to those along with the retailers you buy goods from. Although it hasn't been confirmed, since this information and credentials are actually available for the intermediary service, they might be used for the purposes that are hard to foresee. Anyway, if you never installed JollyWallet but it's displaying unwanted ads on your computer, or in case it's simply giving you a hard time during your Internet sessions, go ahead and remove it using this tutorial.
Automatic removal of the JollyWallet adware
When it comes to handling infections like this one, using a reputable cleaning tool is the place to start. Sticking to this workflow ensures that every component of the adware gets found and eradicated from the affected computer.
1. Download and install the cleaning tool and click the Start Computer Scan button Download JollyWallet removal tool
2. The wait is worth it. Once the scan completes, you will see a report listing all malicious or potentially unwanted objects detected on your PC. Go ahead and click the Fix Threats option in order to get JollyWallet adware automatically uninstalled from your machine along with all of its modules. This being done, you should be good to go.
Uninstall JollyWallet through Control Panel
From your Windows menu, go to Control Panel. Select Add or Remove Programs (for Windows XP / Windows 8) or Uninstall a program (Windows Vista / Windows 7)
Remove Ads by JollyWallet from web browsers manually
The workflow covered below is intended to undo all changes that the JollyWallet virus made to Chrome, Firefox and Internet Explorer. Be advised there's some collateral inconvenience you will encounter, namely the loss of all installed add-ons and personalized information (saved passwords, cached data, bookmarks and other content).
Remove JollyWallet in Chrome
1. Uninstall the JollyWallet extension
2. Restore homepage defaults
Go to On startup sub-section and activate the Open a specific page or set of pages option. Also, click Set pages
3. Restore correct search preferences
4. Restart Google Chrome
Remove JollyWallet in Firefox
1. Eliminate the respective add-on
Hit the Extensions tab and locate JollyWallet on the list. Click Remove to get rid of it
2. Fix the homepage settings
3. Set the preferred search provider
Select the search engine to use by default and hit OK to save the changes
4. Restart Mozilla Firefox
removal from Internet Explorer
Select Toolbars and Extensions in the navigation pane, locate the items related to JollyWallet, including the JollyWallet API, right-click each one select Remove in the context menu
Restart IE and check for symptoms of the infection. If the JollyWallet ads are not appearing anymore, then no further action is required. If the adware is still there, proceed to the steps below
Make sure the Delete personal settings option on the Reset Internet Explorer Settings dialog is ticked and click Reset
Restart Internet Explorer for the changes to take effect
Did the problem go away? Check and see
Computer threats like the JollyWallet virus can be stealthier than you can imagine, skillfully obfuscating their components inside a compromised computer to evade removal. Therefore, by running an additional security scan you will dot the i's and cross the t's in terms of the cleanup.