Sort out the issue of obnoxious Ads by AdFreeApp appearing all over websites by detecting the malicious software and eradicating it from the infected computer.
Everyone who has the AdFreeApp installed on their computer starts feeling paranoid at some point about too many advertisements stalking them. That's unambiguous evidence of adware activity rather than a delusion. Antivirus products are picking up this applet as a PUP, which means Potentially Unwanted Program, because it creeps into a computer without proper notice and makes a mess of one's Internet browsing routine. AdFreeApp, oddly enough, promises its customers to decrease the number of adverts that would otherwise appear in larger quantities during one's web surfing. Under the guise of such a commendable tool, the program simply inserts extra objects into all sites accessed from the infected machine. Those are different kinds of discounts and links to plain promotional materials.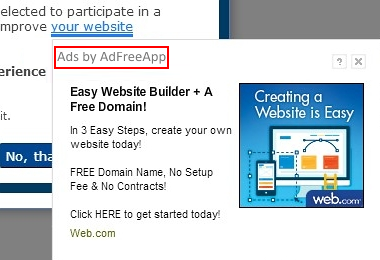 It tends to be problematic to keep this bad entity from infiltrating a system because of the peculiar installation traits it exhibits. The app's website, which is currently not accessible by the way, contains a description of the supposed functionality but provides no actual download of the stub installer. How then can it be distributed? The method of wrapping into third-party setup wizards is what helps the criminals furtively drop their code into lots of workstations. Various media utilities, including music and video players, as well as file downloaders and format converters are heavily used in AdFreeApp propagation conspiracy. The installation clients for those free tools are compound in that they incorporate additional software, which will also end up on the user's PC unless the respective tiny checkmark is unticked.
Countless price comparisons, banners, coupons, freebies and pop-ups, which say "Ads by AdFreeApp", are henceforward going to be displayed on web pages. In addition, the screenshot above demonstrates the way in-text links by AdFreeApp work, where certain words or phrases on a website become clickable and provide service or product promotions when you hover your mouse over them. Since the adware is compatible with the most widespread browsers, this chaos will be encountered in Chrome, Firefox and Internet Explorer to an equal extent. All of the obtrusive side effects from this virus can be halted by means of removing the program proper. This, however, isn't as easy as uninstalling it from Control Panel. Continue reading to learn more and get the hang of PUP removal methodology.
Automatic removal of the AdFreeApp virus
When it comes to handling infections like this one, using a reputable cleaning tool is the place to start. Sticking to this workflow ensures that every component of the adware gets found and eradicated from the affected computer.
1. Download and install the cleaning tool and click the Start Computer Scan button Download AdFreeApp removal tool
2. The wait is worth it. Once the scan completes, you will see a report listing all malicious or potentially unwanted objects detected on your PC. Go ahead and click the Fix Threats option in order to get AdFreeApp malware automatically uninstalled from your machine along with all of its modules. This being done, you should be good to go.
Uninstall AdFreeApp through Control Panel
From your Windows menu, go to Control Panel. Select Add or Remove Programs (for Windows XP / Windows 8) or Uninstall a program (Windows Vista / Windows 7)
Remove AdFreeApp Ads virus from web browsers manually
The workflow covered below is intended to undo all changes that the AdFreeApp virus made to Chrome, Firefox and Internet Explorer. The fix includes several steps: removing the malicious extension; and (if the previous action turned out inefficient) resetting the browser. Be advised there's some collateral inconvenience you will encounter in the latter case, namely the loss of all installed add-ons and personalized information (saved passwords, cached data, bookmarks and other content).
Remove AdFreeApp in Chrome
1. Uninstall the AdFreeApp extension
2. Restore homepage defaults
Go to On startup sub-section and activate the Open a specific page or set of pages option. Also, click Set pages
3. Restore correct search preferences
4. Restart Google Chrome
Remove AdFreeApp in Firefox
1. Eliminate the respective add-on
Hit the Extensions tab and locate AdFreeApp on the list. Click Remove to get rid of it
2. Fix the homepage settings
3. Set the preferred search provider
Select the search engine to use by default and hit OK to save the changes
4. Restart Mozilla Firefox
removal from Internet Explorer
Select Toolbars and Extensions in the navigation pane, locate the items related to AdFreeApp, including the AdFreeApp API, right-click each one select Remove in the context menu
Restart IE and check for symptoms of the infection. If the AdFreeApp ads are not appearing anymore, then no further action is required. If the adware is still there, proceed to the steps below
Make sure the Delete personal settings option on the Reset Internet Explorer Settings dialog is ticked and click Reset
Restart Internet Explorer for the changes to take effect
Did the problem go away? Check and see
Computer threats like the AdFreeApp virus can be stealthier than you can imagine, skillfully obfuscating their components inside a compromised computer to evade removal. Therefore, by running an additional security scan you will dot the i's and cross the t's in terms of the cleanup.